This week saw the release of a new single by the Empress of Soul herself, Miss Gladys Knight.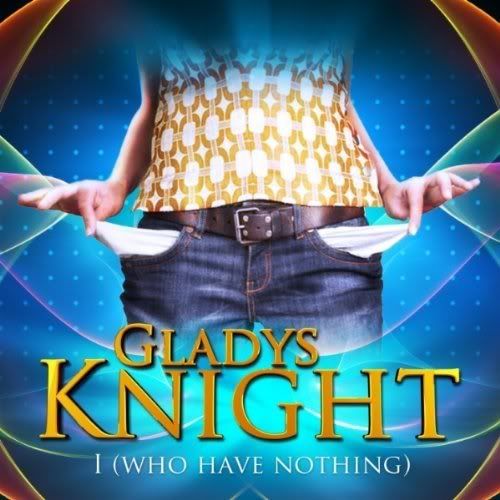 Longtime fans like me might have mistaken it as a mere remix at first glance, as the song – the Leiber/Stoller classic "I (Who Have Nothing)" - had previously been recorded by Gladys on her second solo album in 1979, while she and the Pips could not record together for contractual reasons. She returned to the song in 1999 with a show stopping performance as part of her guest stint on the Leiber/Stoller tribute Broadway show, Smokey Joe's Café.
However, this is all new stuff with a brand new vocal and most likely the first release from her new album promised for this year.
Unlike the 1979 version, which lived off the vocal and suffered from the unfortunate choice of Michael Zager as producer, this is a very contemporary sound and the Beyoncés and Rihannas of this world would not turn down the arrangement and instrumentation. As the single is only available as a digital download for now, and as one of my pet peeves once again comes into play, we have very little information about who was involved in the making of this record other than our Gladys. But from the faulty composer credit, we can deduct that the producer of this song is one Leon Sylvers IV, no doubt the son of famed SOLAR records producer Leon Sylvers III, who not only was heavily involved with Gladys & the Pips' 1983 and '84 releases "Visions" and "Life", but who also provides the most fun remix on this 4-track EP.
So, what do we get for our 3 bucks and change?
The "original mix" is quite radio friendly and, as stated above, entirely contemporary. This does not go without saying, as Gladys in the past has sometimes been paired with producers who were not exactly "happenin'." I'm looking at you, Attala Zane Giles!
Gladys' vocal is impeccable. She shows off much of her range, and thankfully nobody got the silly idea to somehow filter or distort her vocals in any way. She is sometimes sultry, sometimes playful and always all diva.
There are strings, but there is no schmaltz, as they are delivered with an urgent, sometimes almost frantic staccato and paired with an electronic arrangement of beeps and breaks. It's a juxtaposition that works surprisingly well and never drowns out Gladys' powerful and versatile vocal. There is a somewhat generic male backing vocalist who gets to rap/sing some newly added lyrics, too.
Track two is the supposed "DJ Lil Cee Radio Edit." While it's the shortest track at just over 3 minutes, the mix is hardly as radio friendly: It's a sound more at home in the gay clubs of South Beach and West Hollywood than the airwaves. One would assume there is a longer version of this sent out as promo 12" singles to DJs. The problem I have with this is that this kind of Thunderpuss or Hex Hector style mix may never have left the club scene, but there is also nothing new or exciting about it, and it's a bit too soon to consider it "retro."
Next up is the "Monikkr Remix." New York DJ Anthony Fonseca very narrowly missed the opportunity to make this the stand-out version of the song. If he'd played up the dramatic pauses to the max and extended the track to at least 7 minutes, this could have been an epic electro-soul opera comparable to Now Voyager's Mix of Candy Staton's "You Got the Love." As it is, he gets credit for giving an extra edge to the song, even if the added synth storm sometimes does its best to drown out Gladys' voice. Sacrilege! Still this is "get her into anger management" Gladys, getting mad instead of getting weepy, the way she did all the way back with "I heard it through the Grapevine." And that is always a good thing.
Wrapping up the set is the Leon Sylvers III Remix, and for my taste, father does know best. It's a shame that this fun, breezy version is a few months too late to be a summer hit. Sylvers adds punchy piano riffs, amps up the drama of the strings and actually manages to grant the previously generic backing vocals a Pips-like feel by giving them more of a chance to have a back-and-forth with Gladys. This is the version I have played the most so far.
Record companies have long had the belief that the best way to reintroduce a singer to the public after a few years away is to go with danceable tracks. And Cher's "Believe" proved that a contemporary, electronic arrangement can provide singers over 50 with a brand new fan base.
Hopefully, we'll see Gladys Knight on the dance floor charts with this release. And hopefully, she is now sufficiently in control of her career to avoid the type casting she suffered at CBS when the suits there saw her as only successful in the funk/electro/r&b field and decided against releasing her original recording of "Wind Beneath my Wings" as a single and letting other artists collect the sales and awards for their cover versions of the song a year later.
If we get a new album with a range of material appealing to both dance floors and radio stations, we might even see Gladys appear on late night talk shows. And then we might get to see Gladys back on the Billboard charts where she belongs.